Pipeline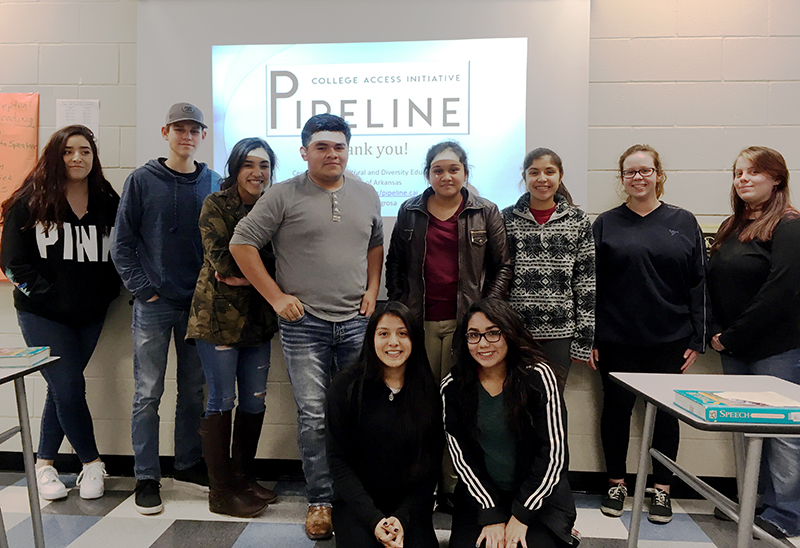 With a generous Home Region grant from the Walton Family Foundation, the Pipeline program works with six Northwest Arkansas schools to create a cohort based college readiness program.
Is college part of your dream? Do you want some help figuring it all out? If so, we may be the program for you!
Student Commitment
Your commitment will look like this:
Actively participate in the Pipeline from 10-12 grade
Maintain academic focus throughout high school
Take the ACT Engage 2 times
Attend up to 4 meetings per semester
Attend 1 summer college program
Apply to college
Complete the FAFSA
Transport myself any time meeting is at school
Student Benefit
By participating in the Pipeline, you get the following benefits:
Two college application waivers
Free three-year college prep program
ACT prep and practice
ACT exam free waiver
College campus visits
One-on-one college advice
Financial aid and scholarship assistance
Informative workshops
Social opportunities
Volunteer opportunities
Con una generosa subvención de Home Region de la Walton Family Foundation, el programa Pipeline trabaja con seis escuelas del noroeste de Arkansas para crear un programa de preparación universitaria basado en cohortes.
¿La universidad es parte de tu sueño? ¿Quieres ayuda para resolverlo? Si es así, ¡podemos ser el programa para usted!
Compromiso del Estudiante
Su compromiso se verá así:
Participar activamente en el Pipeline de 10-12 grado
Mantener el enfoque académico a lo largo de la escuela secundaria
Tome ACT Engage 2 veces
Asistir hasta a 4 reuniones por semestre
Asistir a 1 programa universitario de verano
Aplicar a la universidad
Completa la FAFSA
Transportarme a mí mismo cada vez que la reunión es en la escuela
Beneficio para Estudiantes
Al participar en el Pipeline, obtiene los siguientes beneficios:
Dos exenciones de solicitud de ingreso a la universidad
Programa de preparación universitaria gratuita de tres años
Preparación y práctica de ACT
Exención gratuita para el examen ACT
Visitas al campus universitario
Consejo de la universidad uno-a-uno
Ayuda financiera y asistencia para becas
Talleres informativos
Oportunidades sociales
Oportunidades para voluntarios

Contact Us | Contáctenos
Francesca D'Agrosa
Program Coordinator
(479) 575-2441
Brochure | Folleto